Making the Right Moves for Top Athletes
DOCKET – September 1997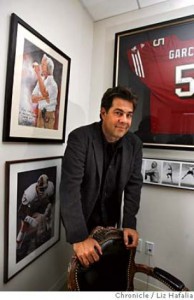 In Jerry Maguire, the sports attorney played by Tom Cruise achieves personal and professional growth by representing fewer clients and giving them more personal attention. In real life, sports attorney Steve Baker has accomplished the same, but without the trauma which accompanied Maguire's transformation.
Baker is a second generation attorney. His father, tax attorney Edwin Baker, represented John Lennon, Ed Sullivan, and major league baseball as well as many other corporate clients. As Baker wryly observes about his childhood, "I only understood years later why we were always able to get seats behind the Mets' dugout."
Baker, who at 39 is still one of the younger sports attorneys in the business, started out with Leigh Steinberg, but has long since established himself as one of the leading sports attorneys in the country. His clients include six NFL players taken in the first round of the NFL draft, three members of the San Francisco 49ers and a number of NFL stars who played at Cal and Stanford. He has negotiated football, baseball, basketball, soccer and media contracts as well as created many different kinds of sports marketing relationships.
Baker revels in his work. Upon arising he reviews overnight voicemail and handles pressing matters. Then he turns on ESPN Sportcenter and replays a video of his wife's news report from the previous evening. After bicycling or driving to his penthouse office on Columbus Street, Baker returns to the phone lines. Of the constantly-cradled telephone, Baker remarks that his father taught him that the first rule of practice is to return calls as quickly as possible, particularly where, as in Baker's case, the clients have been accustomed to royal treatment all of their lives.
Listening to Baker's half of non-confidential telephone banter with attorneys, agents, journalists and team executives is insightful and at times amusing. For example, while debating the merits of natural grass and artificial turf, Baker remarks: "I can't think of a player who'd rather play on artificial turf It's like arguing about world peace or whether cigarettes cause cancer. Artificial turf causes injuries, and everybody knows it."
During another call: "I favor a limited form of instant replay in which a coach is allowed one challenge per game. If he's right, he gets another challenge. If he's wrong, his team loses a time out. Delay will be minimal and truly egregious errors that can ruin a team's season can be corrected."
To another caller: "You need two things to succeed in the NFL: a good evaluator of talent, and a motivator. Most teams have one or the other, but not both. Some people, like Jimmy Johnson, are good at both. In Green Bay, on the other hand, they have an outstanding general manager in Ron Woolf and a brilliant coach in Mike Holmgren."
And another Bakerism: "The two toughest things in sports are repeating as a champion, like the 49ers and the Bulls and retiring near the top of your game, like Jim Brown and Joe DiMaggio."
A recurrent theme is Baker's dissatisfaction with media emphasis on salaries. "The focus on the huge dollar amounts associated with sports has spoiled the experience for many fans; I know because I'm a fan myself. But professional athletes, who are in the top I percent of the top 1 percent of those who play the sport, are actually underpaid because most franchises remain immensely profitable despite the salaries. And remember, for every 20-year-old millionaire there's a 35 year-old former All-American selling insurance to make ends meet.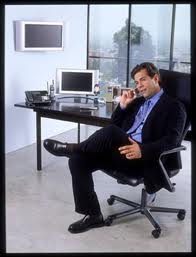 In NFL contract negotiations, ever since the advent of the salary cap five years ago, the focus of virtually every negotiation is the effect the contract will have on the team's ability to remain below its cap limit.
The salary cap is an odd bird which, if fully described in these pages, likely would cause the Docket to fall from the hands of a sleeping reader. Suffice it to say that while the cap limits a teams total salary expenditures, there are ways around it for those with the money and brainpower to figure them out.
Baker is one of the most creative of the tinkerers. With the 49ers' Ray Brown, for instance, Baker used signing and roster bonuses to stretch cap limits while making him one of the highest paid guards in the league. Signing bonuses are useful because the amount of the bonus is prorated over the term of the contract, up to a maximum of seven years. Roster bonuses encourage contract renegotiations and new signing bonuses. Thus, Brown's $ 10 million contract counted only $1 million toward the salary cap in its first year even though Brown actually was paid $3.25 million that year. Since Baker structured the contract with a $500,000 roster bonus due each March, it is advantageous for the 49ers to renegotiate the contract each year to provide for renewed cap relief and Brown with another signing bonus. Brown's contract has already been renegotiated twice and he has received three signing bonuses in the last 18 months.
Baker usually favors rookie contracts lasting four years, after which time his clients become free agents. The four-year deals provide initial security for the new players, and guarantee that they will be five agents at the earliest opportunity, maximizing their market value.
Conversely, long-term contracts are usually a bad investment. "As phenomenal as Magic Johnson's 10-year, $25 million contract looked in die early 80′s, it was obsolete after two years, largely due to increased league revenues and exemptions to the salary cap."
Baker has taught sports law at USF Law School and lectured extensively around the country comparing the football salary cap to the basketball salary cap and plans to work more on basketball-related matters in the coming years.
For now, he enjoys ruminating on the future of professional sports. A major trend in professional sports, and football in particular, has been owners' attempts to develop new income sources.
At present, most sources of income (TV, licensing and gate) are fixed and shared, a legacy from the Rozelle days, when the concept of parity was devised to ensure competition between teams from large and small markets. But some owners, like the Cowboys' Jerry Jones, have discovered marketing opportunities where none were thought to exist. Jones's actions are controversial and opponents claim he will upset the balance which has led to the success of the NFL. Baker partially disagrees: "I think the sport was ready for injection of hard-nosed creative thinking and I think the expanded opportunities it is now finding will benefit it in the long run. Still the sport can't lose sight of the collective effort that made the NFL the most successful sports league in history."
Perhaps the most popular method of circumventing the fixed income world of the NFL is by lowering expenses through stadium lease renegotiations. Moving or threatening to move a sports franchise is a powerful leveraging tool for virtually every owner in recent years. We've seen it in Sacramento, Oakland, and most recently in San Francisco, where voters narrowly approved a 49ers' stadium proposal.
"Cities need vision," Baker says, "because they are incredibly overmatched when dealing with sports franchises, largely because owners can and will move teams to sports-starved cities that will offer huge financial incentives.
Baker sees the 49ers mall-stadium proposal as an example of the type of visionary public-private partnership he extols. "The 49ers are unquestionably a tremendous boon to the San Francisco economy, but they, like other teams, need new sources of revenue, and malls like this have succeeded elsewhere. 49ers' owner Eddie DeBartolo, Jr. was portrayed in some media as a wealthy man who did not merit public support. But over the years few owners have been as generous with their players and fans, and that in turn has led to the 49ers' success."
Baker's expertise has resulted in a steady procession of top-notch athletes to his door. He advises potential clients of a four-step process in selecting an agent: 1) limit the search to individuals with time-proven contractual negotiation skills; 2) look for personal attributes, inducting accessibility and integrity, 3) consider the agent's other skiffs, such as marketing abilities and the capacity to handle public relations; and, after you narrowed the field with the first three requirements, 4) follow your instincts.
Sports agents and attorneys, like lobbyists and attorneys generally, suffer from a public's perception that their ethical standards can be shed as quickly as old underwear. Baker has seen the dark side and abhors it. "Agents will recruit athletes with money, cars and, women. I won't do it for two reasons. One: it's wrong. Two: If that's the basis of your relationship with your client you have a foundation built on sleaze." Baker also refuses to recommend particular investments to his clients. "Negotiating a multimillion dollar contract and investing the millions are two entirely separate things. Some people think they can do both. I insist on keeping them separate. In the long run its best for everyone."
Dwight Clark, the former star wide receiver with the 49ers and now their Director of Player Personnel, confirms that Baker's approach reflects what he hopes is a new trend with sports agents and attorneys. "Ever since Jerry Maguire, players are demanding more personal attention from their agents, and to some extent they're getting it. Steve has always given his players more personal attention, though. I get the sense he isn't in die business to make the most money, and that also makes him unique. Frankly, I can't help but like the guy, even though he's a tireless negotiator. He's what I call a grinder, and he'll wear you down, but he won't waste time over points he can't win. He's an excellent agent who represents his clients extremely well."
In the future, Baker sees a greater relationship between teams and athletes. "Professional sports gives us heroes. They in many ways are our modern mythology." This, in turn, delivers a huge and reliable market to advertisers. "As large as the Fox NFL TV contract seemed a few years ago, it was an incredibly good deal for the network. It put Fox on the map and coincided with the decline of CBS," says Baker.
"But the players do not always share in the success. Professional sports epitomizes the conflict between capitalism and socialism. Imagine the valedictorian at Harvard Business School being told he could not choose where to work. But that is precisely what happens with the draft. This battle between the capitalism that created the league and the collectivism that keeps it going will be one of the great sports stories of the 21st Century.
MARK SHUSTED